PEFC CERTIFIED PALLETS AND BIOMASS
Pefc Certified Pallets And Biomass
Products marked or labeled PEFC come from sustainably managed forests as they are certified in accordance with the 6 Pan-European Criteria.

Forest resources, like any other fundamental human resource, require attention to their preservation so that they continue to maintain their character as a renewable source. The identification of international-level mechanisms for environmental accreditation motivated Barigazzi F.lli s.r.l. toward the choice of PEFC certification. The mark that accompanies all PEFC products is a guarantee that the raw material used comes from sustainable and uncontroversial sources.
The goal of the Sustainable Forest Management (SFM) certification system is to provide consumers with the assurance that PEFC-labeled products come from properties, companies and entities that apply forest management that is particularly attentive to economic, environmental and social aspects.
"Forest management certification" means the management and use of forests and forest lands in ways and measures that maintain their biodiversity, productivity, regenerative capacity, vitality, and their potential to ensure important ecological, economic, and social functions now and in the future at local, national, and global levels, and that do not result in damage to other ecosystems (definition of GFS under the Pan-European Process).
The PEFC forest certification scheme in Europe is based on three basic principles:
Compliance with the Criteria and Indicators defined in the Ministerial Conferences for the Protection of Forests in Europe (Helsinki 1993, Lisbon 1998) that initiated the so-called "Pan-European Process."
regional or group application (although individual membership is equally possible);
Inspection audits and certification entrusted to an independent and accredited third party.
Barigazzi can supply Pefc certified pallets, packaging and biomass, request a quote now or contact us for more information.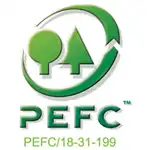 The best pallets for your goods!
Request a Consultation
Barigazzi Pallet for over 60 years a leader in the wood packaging trade Contact in our administrative offices for quotes or consultations
We will know how to respond to your every request!